Floodplain Management
Mission
Protect property owners by restricting uses in flood prone areas that are dangerous to their health, safety, or property in times of flood.
National Flood Insurance Program (NFIP)
Cayce participates in the National Flood Insurance Program (NFIP). Floodplain Management is a program that uses corrective and preventative measures to achieve a reduction in loss of life, disruption, and damage caused by floods as well as the preservation and restoration of natural resources and functions of floodplain.
Community Rating System (CRS)
The NFIP has played a critical role in fostering and accelerating the principals of floodplain management by providing federally backed flood insurance to the communities that must participate in the NFIP. The Community Rating System (CRS) offers incentives for communities to do more than just regulate construction of new buildings to minimum standards.
Under the CRS program, flood insurance premiums are adjusted to reflect community activities that reduce flood damage to existing buildings, manage development in areas not mapped by the National Flood Insurance Program, protect new buildings beyond the minimum required protection level, and assist insurance, mortgage, and real estate agents obtain accurate flood data. By participating in the CRS Program, enforcing the ordinance, and through public outreach, Cayce provides its residents an automatic 5% discount on flood insurance.
What is a flood?
Merriam-Webster Dictionary defines a flood as a "rising and overflowing of a body of water especially onto normally dry land".  It is important to understand, however, that floods are an essential part of the natural water cycle.  Damage from flooding often occurs because humans live, work, and build within the floodplain.

What is a floodplain?
Floodplains provide temporary storage of floodwaters to minimize flood damage in other areas.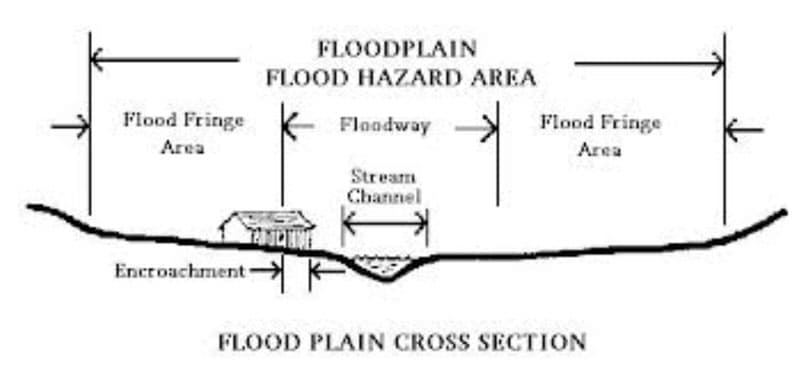 Benefits of Floods and Floodplains
Floods return natural nutrients and rich sediments to the land.
Floods replenish the water within wetlands.
Floodplains serve as a recharge area for the aquifer.
Floodplains improve water quality by filtering sediments and pollutants from floodwaters.
Floodplains serve as important natural habitats.
Floodplain Management
Floodplain management is the operation of a community program for preventative and corrective measures to reduce flood damage, and preserve and improve natural floodplain areas where appropriate.  Cayce has adopted and is enforcing local floodplain management ordinances that provide flood loss reduction and building standards for new and existing development.  The enactment and enforcement of these ordinances allows all citizens within the county, particularly those located within areas subject to periodic flooding, to obtain flood insurance through the National Flood Insurance Program (NFIP).
Note: This webpage will be checked monthly for information accuracy and broken links.
Explore More
Contact Us
Stuart Jones
Building Official/Floodplain Coordinator
803-550-9502


[email protected]
Monique Ocean
Zoning Technician
803-550-9504


[email protected]