Area Attractions
No matter what time of the year it is, there are a number of great things to do in and around the Cayce area.
Cayce River Arts District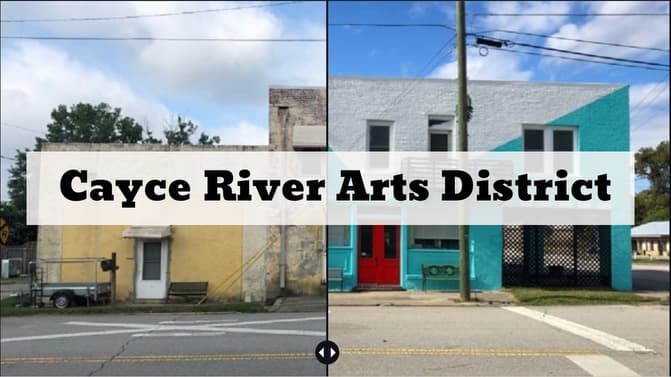 The City of Cayce River Arts District, in the heart of historic CayceSC, is a perfect hub and doorway to all things creative in our City! Enjoy art studios, the Riverwalk, craft beer, pottery classes, brunch + coffee and live music all on StateStreet.
Area Attractions
The Cayce Historical Museum located in the Cayce Municipal Complex, provides a look back at the first European settlement in the South Carolina midlands through exhibits that the whole family can enjoy, including a replica trading post from the mid-1700s.
In addition, there are a number of museums, historical locations, and other attractions within a short drive.
Enjoy themed walking tours through the Congaree Creek exploring the living history of an area that has been inhabited for more than 12,000 years. Tours include the Civil War Battle of Congaree Creek, Fort Congaree and 18th Century Trade and Native American Lifeways. Lantern Tours and special events are also planned for the fall season. Tours are about an hour to an hour and a half. We suggest wearing comfortable shoes! Join us at one of the most unique parks across the nation, right here in Cayce, S.C. Visit our facebook page for more info at https://facebook.com/12000yearhistorypark.
Columbia is home to the Riverbanks Zoo and Botanical Gardens, which is a 170-acre zoo, aquarium, and botanical garden located less than ten miles from the heart of Cayce and is South Carolina's largest gated attraction. Riverbanks Zoo is one of the southeast's top tourist attractions and averages one million visitors each year.
The South Carolina State Museum is located less than 5 minutes from the heart of Cayce. Here you will find over 70,000 artifacts consisting of art, natural history, history, and science/technology. There are 5 changing exhibit galleries that hosts traveling exhibits throughout the year. The Museum was recently voted one of the top 3 museums in the Southeast.
Directly adjacent to the South Carolina State Museum is the Edventure Children's Museum, a 92,000 square foot facility devoted to children 12 and younger, families, teachers, caregivers and anyone who has a child's best interest at heart. With over 350 hands on exhibits, your child is sure to enjoy walking around inside EDDIE, a 40 feet tall child exhibit, or exploring Mission Imagination.
The Columbia Museum of Art has a collection of works by famous and modern artists. Plus, Columbia and neighboring Lexington are home to a vast number of historic homes, sites and buildings, including the state capitol.
Visit the South Carolina State Farmers Market. Wholesalers, retailers and farmers from all across the state and region provide fresh, wholesome produce and products for consumers at a beautiful location.
The University of South Carolina's Carolina Stadium, which is home to the 2010 and 2011 College Baseball NATIONAL CHAMPIONS, is less than 5 minutes from Cayce on Williams Street in Columbia. Catch a game and then come back to Cayce for an evening walk along the river.
From Cayce, it's only a quick dash across the river to South Carolina's State House. The State House is located in the center of downtown Columbia and is the seat of state government in South Carolina. Built primarily out of blue granite, SC's official state stone, the State House is completely fireproof so it can safely store many important state documents.
Explore More
Contact Us
City of Cayce
1800 12th Street
Cayce, SC 29033
803.796.9020


[email protected]

For All Media Inquiries
City of Cayce Spokesperson
Ashley S. Hunter
803-665-3676


[email protected]