Soiree on State

THE FUN BEGINS

The City of Cayce is thrilled to announce the return of the Soiree on State, to be held on it's new date, Saturday, March 25, 2023. The City has partnered with the Avenues Neighborhood Association to combine the Cayce Festival of the Arts with Soiree on State. Soiree on State will include artists, a free kid's area with bounce courses, face painting and a balloon artist, food vendors, a variety of musicians and more for fun all afternoon long! Soiree on State will take place from 2:00 pm to 8:00 pm along State Street, from Poplar Avenue to Railroad Street.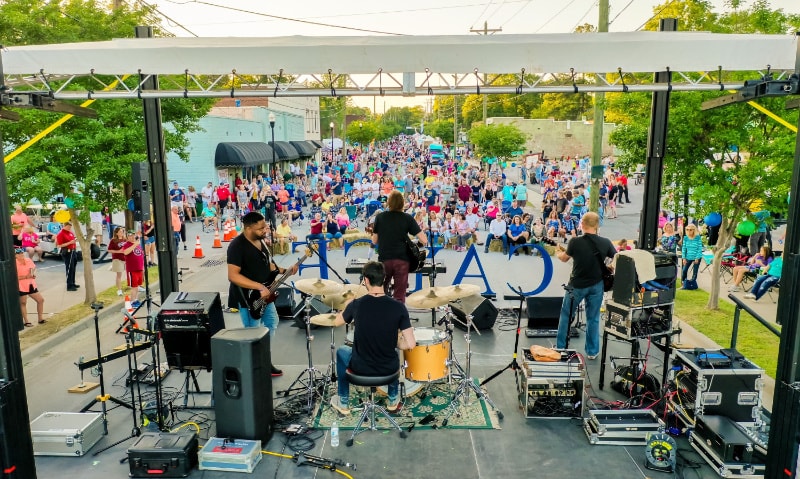 Sam Edwards, a Columbia bassist, will be performing jazz in the City's Art Lot all day and local favorite Tokyo Joe will be headlining. Cayce's own Mitchell Lee will be the opening act followed by the amazing Prettier than Matt.
Band Line up:
Parking is located at the Brookland-Cayce Highschool. Guests can walk or take a free golf cart ride to the event.
Road Closure Information
On Saturday, March 25, multiple streets in the City of Cayce will be closed and/or have detours in conjunction with the Soiree on State event. The event site, State Street from Poplar Street to Railroad Street, will be closed to through traffic starting at 10:00 a.m. and will remain closed into the evening for event clean up. Multiple adjacent streets will be closed for through traffic as well:
Railroad Street, Holland Avenue, and Lexington Avenue will be closed from 1st St to State Street
Lexington Avenue, Clark Street, and Lyles Street will be closed from entering State Street
Poplar Street and Oakland Avenue will be closed from entering State Street
Additionally, Frink Street will be accessible for local traffic only between Foreman Street and State Street from 10:00 a.m. to 10:00 p.m. The detour route will be as follows:
From Frink Street to State Street – Foreman Street to Walter Price Rd/8th Street to Naples Avenue to State Street
From State Street to Frink Street – Naples Avenue to 8th Street/ Walter Price Road to Foreman Street to Frink Street
Also, Axtell Drive is currently closed to all thru traffic so make sure to keep that in mind when planning on joining us at the Soiree on State.
Thanks to Our Sponsors